Customer-friendly Manchester IT services from a Microsoft Gold Partner
Apex Computing has been delivering reliable IT support for businesses across Manchester since 2003.
Our goal as Manchester's most trusted full-service IT support provider is to make IT simple. We never bombard our clients with complex explanations - instead, we work to resolve your IT issues in a way that is efficient and easy to follow regardless of your level of expertise.
As Microsoft Solution Partners, we guarantee a level of support and expertise that other Manchester IT support companies can't. From server management and eliminating cyber threats to Microsoft 365 business support and equipment repairs, all of our IT solutions are tailored to meet the requirements of your business and help your business to grow.
When you choose to outsource your IT support in Manchester with Apex Computing, your chance of downtime from tech or power outages is greatly minimised. We deliver leading IT solutions on budget and on time, which is why we've received hundreds of 5-star reviews from satisfied clients across Manchester and the wider region.
The IT support, infrastructure, and level of security that you put in place can make or break your business in today's digital world. Apex Computing can help to secure your business for the future by offering the very best in technical assistance and Manchester IT service provision, no matter how big or small your organisation may be.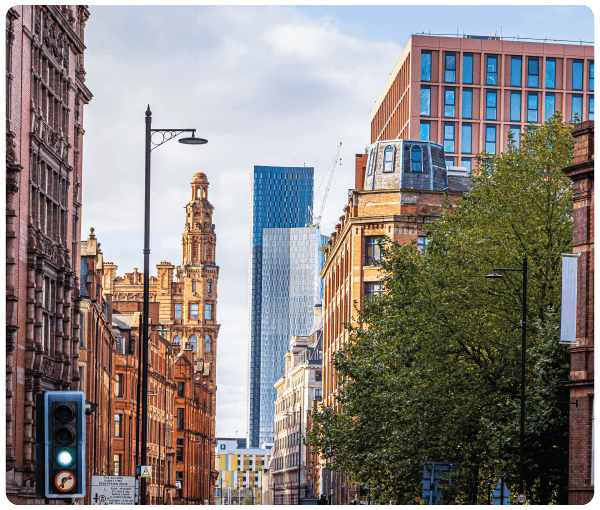 We pride ourselves on supporting great Manchester Businesses! Jonathon Biddle, Operations Director at Umbrella.co.uk quotes, "Umbrella.co.uk have worked with Apex computing for over 10 yrs. Apex have help ensure our infrastructure and security has always kept pace with our growth.
The team at Apex are first rate. From the Account managers through the IT help desk and to the Projects team everyone is happy to help."
Get in touch with our experienced team to discuss how our wide range of Manchester IT support solutions can help you achieve your business goals.
Need an IT Support partner in Manchester you can trust?
We warmly invite you to reach out to us for a complimentary consultation, where our team of certified professionals will provide tailored advice on how our IT support solutions can best serve your organisation. With years of experience catering to Manchester's diverse business landscape, we understand your unique needs and challenges. By contacting us, you'll gain valuable insights into how Apex Computing can enhance your IT infrastructure, bolster cybersecurity, and ensure seamless business operations. Don't miss this opportunity to transform your IT capabilities with our comprehensive services. Get in touch with us today and take the first step towards unleashing the full potential of your organisation
The benefits of outsourcing your Manchester IT support with Apex Computing
24/7/365 support from the experts
Our dedicated Manchester IT support team have years of experience in providing effective IT solutions to businesses just like yours. We know that unexpected problems can happen at any time, which is why we're available 24 hours a day, 7 days a week, and 365 days a year to get your business back up and running with minimal downtime.
We're just a phone call away when you need expert advice or support. All calls are answered within 30 seconds on average, and you'll be straight through to a member of our specialist helpdesk team.
Bespoke services
Our team of experts will work with you to create a comprehensive IT support plan and roadmap that meet the specific needs of your business, no matter the size of your organisation.
Whether you're after Cloud solutions, cyber security, IT consultancy, or general IT support for your Manchester-based business, Apex Computing has you covered. Tailoring our services to your business requirements ensures that you'll never pay for more than what you need and that our excellent service integrates into your business seamlessly.
Save time and money
Outsourcing your IT support significantly reduces internal overheads. With us, you'll have a dedicated IT team available 24/7 to manage and monitor your IT estate.
Our experts will not only help to streamline and automate your IT processes to improve the efficiency of your workforce, but will also proactively ensure your business is running smoothly from an IT perspective, taking pressure off your internal team.
Keep your data safe
We pride ourselves on our exceptional level of service, including vigilant cyber security solutions, which help to keep your systems safe before cyber criminals can get a foot in the door. As cyber-attack techniques evolve, so will your solutions, with regular automatic updates.
We're on your doorstep
Our prime position in Media City means that our Manchester IT support team can get to you quickly if and when you need us. Have peace of mind knowing we're never too far away and will be there to resolve any IT issues quickly and effectively.
Case Study: Nikal
A private property development and investment company with headquarters in Manchester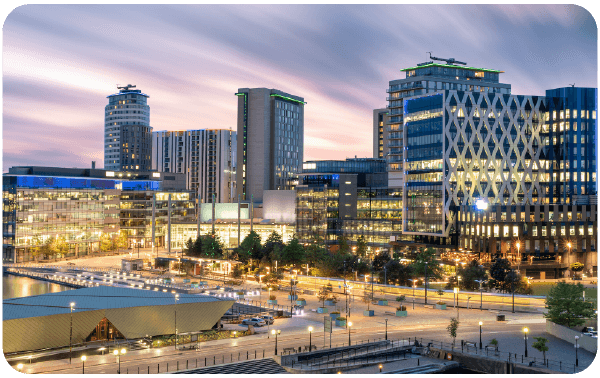 Nikal has a portfolio of award-winning projects spanning the UK and abroad. With headquarters in Manchester, they transform and regenerate buildings from all eras, providing new workspaces, living spaces, and entertainment complexes for businesses, tenants, and tourists alike.
Notable projects include Salford Quays's Soapworks, Birmingham's HIVE, Hull's Freedom Quay apartments, and Blackpool Central – which will include restaurants, new hotels, and residential apartments, as well as space for concerts, road shows, and themed Christmas markets.
When Nikal originally contacted us back in 2003, they were a growing business looking for software support and help with their IT processes. Fast-forward 16 years and we've built up a loyal partnership and service level that covers our full spectrum of IT support.
We recently sat down with Stephen Robinson, Finance Director at Nikal, to discuss his interactions with Apex Computing, how this has benefited the business as a whole, and the impact this has had on their operations.
"What has made you stick with us all these years?"
"It's safe to say that we pretty much use every single one of your services. As we've grown, we've needed an IT business that is dependable, and you have always certainly been that.
More than this, it comes down to service level. I might be able to find cheaper IT solutions elsewhere, but if I can't get the systems and software to work or they go down for a period of time and disrupt business, then they're no good. Having an IT business with a high level of service is key - it's absolutely critical."
"How have we benefited your business?"
"There are a number of benefits to working with Apex. One is that you're extremely professional and have a great service level that ensures our business stays operative 100% of the time. You respond to issues very quickly and exceed any service level I've ever experienced before.
We don't have our own dedicated IT support team, so Apex is an integral part of our development in terms of things like security and how we use technology. You really are an IT partner rather than just a service provider.
The value for money that we get from Apex also cannot be understated. You provide such a good service and it's much more affordable than what it would cost to do all of this in-house."
"What makes us a good IT support partner?"
"You're technically very competent. You've taken the time to get to understand us and our business, providing us with IT solutions that fully benefit us.
All of the staff are very polite, courteous, and just genuinely lovely people to work with. It's always nice to do business with people that you like."
"Would you recommend Apex Computing to other Manchester based businesses?"
"Absolutely, and I have done. We built 12 offices in Altrincham recently, several of which have now been sold or rented out to other new businesses. We recommended that they should use Apex Computing's integrated Manchester IT services for the best uptime and service provision.
We've been a big supporter of Apex Computing all through the 16 years that we've used you."
What Manchester IT support services do we offer?
We offer a comprehensive range of IT support services, each of which can be tailored to meet your specific business requirements.
Get in touch today to discuss your bespoke IT support strategy with a member of our friendly team.
Microsoft 365
Microsoft 365's Cloud-based applications provide your workforce with access to everything they need, no matter where they're working from.
As Microsoft Gold Partners, Apex Computing offer specialised expert support every step of the way, ensuring that your transition to Microsoft 365 is seamless and that any software issues are resolved quickly and efficiently.
Cyber security
With cyber attacks becoming increasingly sophisticated, it's vital to protect your business with cyber security solutions that last.
Our cyber security solutions help to keep your systems and data protected before cyber criminals can get a foot in the door. As their techniques evolve, so too will your solutions thanks to regular automatic updates.



Business continuity
Minimise downtime forever with our effective business continuity solutions. We'll ensure your business can continue operating even in worst-case scenarios, with minimal disruption to services.
Our business continuity plans aren't only about effective disaster recovery - they'll also ensure that any lost data can be retrieved with physical and virtual backup solutions.
Cloud solutions
Our Cloud solutions provide your workforce with secure and easy access to company data no matter where they're working from.
Understanding which Cloud computing system is best for your business can be challenging, if not overwhelming. We're here to support you throughout the process and ensure you get set up with the Cloud solutions you need.
Connectivity & telephony
Your business needs a connection it can rely on to ensure your workforce can communicate efficiently from anywhere - whether in the office, at home, or on the move.
Our connectivity and telephony services increase productivity and reduce downtime by ensuring your communication systems are streamlined, efficient, and up to date.
Success Story: 6 Group
6 Group is the global executive search, leadership assessment, and talent mapping & pipelining.



What our customers say about Apex Computing
Paul Rebbitt, Park Hose

As a small business, we have tried to concentrate on giving service to our customers rather than spending too much time getting a proper computer system infrastructure to cope with increasing work. As a result, we suffered, and Apex Computing came to our rescue going beyond expectations by trying to sort our existing problem before offering a full solution. I thoroughly recommend them.

Embryo, embryo.com

Apex Computing is a fantastic IT Support company with great people and client service. We are in regular contact with them and have never had a bad experience. We value their knowledge here at Embryo and they support us with any IT issues we have with incredible care and attention.

Tarik Saleem, The Linen Group

As with moving to any new supplier, there is always a nervous feeling. Business continuity is paramount. All of our inventory is RFID tagged, so if our IT systems stop, so does our production. Our customers are not interested in IT problems, they need large volumes of linen for their daily operations. We needed IT Support that understood our business. We made the right choice moving to Apex. Apex are proactive, efficient and show great understanding.

David Busby, Around Town Flats

After consulting other competitors on the market, we were blown away by Apex Computing. They understood our needs, offered a personal service and to date have performed exceptionally. I really can't recommend them enough.

Steve Foster, Kingdom Services Group

Our company has grown considerably since Apex Computing first started to support us in 2009 and they have been pivotal in making sure our IT infrastructure has been able to support this growth. Our company operates 24/7 and monitors over 25,000 manned guards. Apex Computing has always responded quickly to solve any problems and never failed to answer the phone at any time.

Matthew Wilkinson, Pyranha Kayaks

As soon as we joined Apex Computing, we immediately noticed a sharp increase in the number of IT Support calls we were making; not because of any increase in the number of IT issues we were experiencing, but simply due to the fact that we knew any issues we might have would be fixed promptly and efficiently, and therefore had no inhibitions in calling on Apex Computing for help.

James Beazley, 6group.com

We have been using Apex Computing Services for over 5 years for our IT Support. Over the years of working with Director Chris Gorman and the support engineer team they have really gone above and beyond our expectations. I trust Chris and the team to handle any of our IT Support issues and find them extremely helpful and they are a joy to work with.

Shirley Devine, Manchester Carers

We have continued to get excellent service and support from Apex Computing Services. With Manchester Carers being a local independent charity, we rely on an honest, trustworthy and innovative IT Support company. We are really happy with the service we have received over the years and we value their IT knowledge and expertise. They take corporate social responsibility really seriously.
Why choose Apex Computing over other Manchester IT support companies?
Our experts are available 24/7/365 to keep your business operating at its very best and minimise downtime, even in worst case scenarios. We ensure your peace of mind by offering the best and most efficient IT support in Manchester.

Need support with your IT? We can help, it's what we're good at.
If you are a Manchester based business in need of better IT Support, chat with a member of our team today.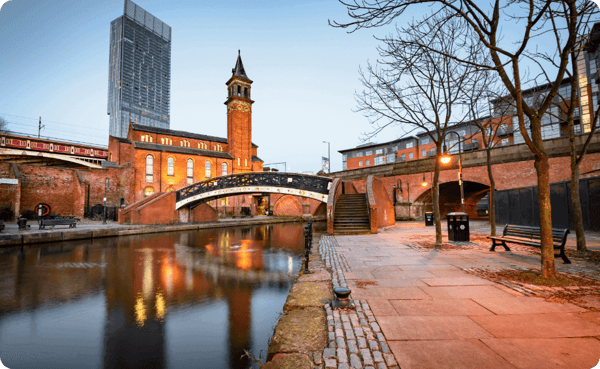 Do you need reliable IT support in Manchester?
Our highly professional team of Manchester IT support experts are right on your doorstep, ready and waiting to provide your business with the IT solutions it needs to thrive.
Book a meeting using our consultation form or contact us with any queries to start the conversation about bespoke IT solutions for your Manchester business.